Testimonials

Hi Steven,
Sorry we haven't gotten back to you, but we've been so busy watching our video over and over. You did an amazing job!!! You really are worth so much more than what you charged us. We can't thank you enough! The video is perfect from beginning to end. Joe and I were so lucky to have you as our videographer. Having anyone else would have certainly been a mistake. I know this all probably sounds really generic, but we are so happy with our video that we can't really tell you in any other way. Our families loved it so much they all want a copy of their own. Once again, you are a phenomenal videographer and we have been honored to have you as such an important part of our wedding.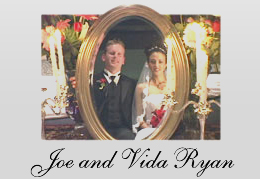 "We just loved working with Steven. He's brilliant! His ideas were excellent and we've watched our video over and over...we highly recommend his services. In fact, we've been letting everyone we know how fabulously talented he is with his camera and editing techniques. He captured so many special moments on video that we were unable to notice during our ceremony and reception, but have loved seeing!"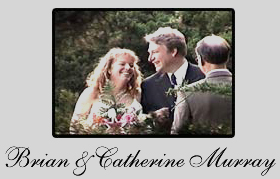 "Our video was absolutely gorgeous, your production and editing skills are tremendous. The montage that you incorporated into the first segment of the video nearly brought my wife to tears as it was put together with great care and with a very personal touch. You are worth your weight in gold my friend and we are so very pleased that we went with you as our videographer. More than once, I had mentioned to Dawn that I had thought that you were one of the hardest working professionals that I have ever seen. The end result is nothing short of beautiful."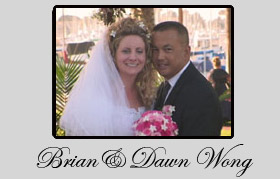 "Thank you so much for the video. Now I will always be able to look back on the greatest day of my life. We were blown away by your outstanding work. Keep working well with your customers & talking to them as you did with me. All my friends will hear about you! Good luck & God bless."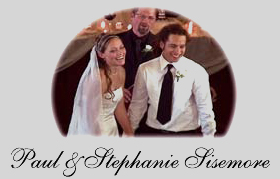 "We are so thrilled by the final product! It's absolutely everything that we talked about, and so much more. Thanks for really taking
our ideas
into
consideration
as you shot and edited the video...it's so beautifully done, and really
tells our story
. The slide show at the end is perfect, and we especially loved the time lapse during the chapel seating. It was also really fun to hear what folks had to say to us, you chose the perfect guests to interview! And all of the little details that you added (the cut-aways, the invitation animation, the chapters, the music)...it all adds up to be just perfect. In fact, Ryan's parents just watched it as well (and cried the whole way through!)...they said it was the
best wedding video they'd ever seen
...and we whole-heartedly agree.
Thank you so much for lending us your creative talents on our wedding day, we couldn't be happier with the video...and we'll definitely watch it every year on our anniversary."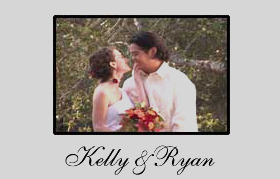 "Steven was such a professional! He did a great job editing and we are completely satisfied with the final product. Our day would not have been complete without him. Our video is something we will have forever! His work
exceeded our expectations
! Thank you so much for helping us make memories!"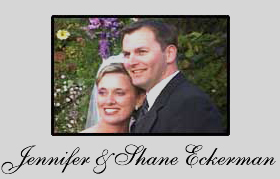 "Dear Steven, We absolutely love our video! We have watched it over and over, by ourselves, with friends and with family...basically, every time we get the chance! It was the best thing we did to capture our big day - we would have paid double to get a video this great!
Not only was the video beautiful, but it really captured our day perfectly...we cried all over again!! Everyone who has seen it is amazed at how everything flows together and how you didn't miss a detail of the day. We were really suprised to see the aerial shot of the Jack House too, how incredible is that?
Steven, you are truly amazing, totally sweet and fun...a true professional and a pleasure to work with! Thank you for creating such a beautiful video...we look forward to watching it every anniversary!"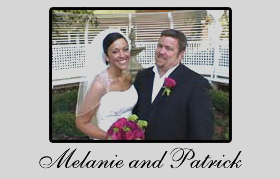 We want to thank you so very much for your hard work on our wedding video, you did such an amazing job! It was wonderful for us to have you there on the wedding day, you really know what you're doing! Thank you so much!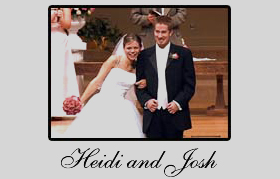 Thank you so much for the great job you did on our video. We had so much fun watching it, you captured so many special moments! The editing, music, & chapters are amazing. We are so happy we have such a special day that we can watch forever. You were a pleasure to work with and you did a wonderful job! Thanks again. All the best,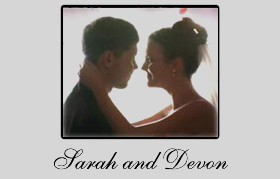 We had our wedding at a difficult location to film, but you would have never known it with how great our wedding video turned out. We have enjoyed watching our memories on video many times, and all of our friends and family have too. Thanks Steven!